View and Sign Our Guestbook
96 Entries
01/01/16





Location

Houston, Texas



Comments:


Hi Susan or Whoever's reading this,

I just want to say that Susan Haskell is such an inspiration to many like me. I mean I am a naive fifteen year old, but watching her acting and reading her interviews is just amazing. I applaud her for all her hardwork and how much it has paid off for her in the years. She is still big in my head.

Happy New Year Susan,

Andrea


12/03/15





Comments:


You're an awesome actress and seeing you on the TV!
07/29/15





Location

South Bend Indiana



Comments:


First, this post is like 10 years late so my apologies. I first came to know of Susan in her role as a Navy Cmdr. Jordan Parker. JAG was my favorite show. She did a great job while she was on the show. Susan is a beautiful and talented lady. Her husband is a very lucky man as well as are her children.
I enjoyed the entire cast of JAG and always looke forward to seeing them in my living room every week as if they were family. Thank you Susan for your contribution to my favorite show.
06/11/15





Location

North Carolina



Website URL

Google



Comments:


A new admirer.....I am viewing the J A G tv shows....so, even though I am "10 years behind the mast"........ You look m a r v e l o u s !!!
Of course your acting was superb .

C A
06/10/15





Location

Canada



Comments:


Happy Birthday! Hope you enjoy your day.
12/02/14





Location

Simi Valley California



Comments:


Love you in JAG.
10/26/14





Location

San Francisco



Comments:


I miss watching you on TV, you are so hot
08/20/14





Location

Canada



Comments:


Dear Susan Haskell, I really enjoyed watching you on One Life To Live. That show touched me deeply, I enjoy how you made your character Marty Saybrooke real. I only started watching OLTL recently and I have to say that it made me want to have the courage that you as Marty and as yourself have. I have never been sexually assaulted but I was close to being hurt. I hope that I will never have to experience the kind of pain and suffering that victims of sexual assault have, it doesn't even have to be rape to be an impact on you, it could be anything from an unwanted touch to someone trying to make you be with someone who is making unwanted advances towards you. All I am trying to say is I find you as an actress and as a person to be inspiring. Thank you for giving people courage to stand up for themselves. I wish you Susan all the best, and your family success with everything.
07/30/14
Comments:
Hey susan,

It's holly hill from redding! You are a hard person to find!! (But alas I found your FAN PAGE!!) :-) love it!!
Anyway, I am helping organize a fundraiser for the library. It is going to be a dinner at an estate on diamond hill hosted by comedian michael ian black who lives in town. We are going to be honoring Roz Chast (from New Yorker magazine) .
My email is hollylouisehill@gmail.com
I hope you are having a great summer (and hopefully you get this before sept. 20!)
xo
06/29/14





Location

Scranton, PA



Website URL

www.amymfergusonthesanctityofloveandwar.com



Comments:


After all these years, it's still fun to watch old OLTL clips on YouTube. I'm in my early 40's and grew-up watching soaps, but, by far, the most talented actress I've ever seen is Susan Haskell. As a licensed therapist, I appreciate the depth of emotion she brought to the screen, particularly during the ground-breaking rape storyline.
06/10/14





Location

Canada



Comments:


Happy Birthday Susan. Hope to see you back on screen one day soon.
05/24/14





Location

INDIANA



Comments:




HEY SUSAN! I AM A HUGE FAN OF YOURS, YOUR PORTRAYAL OF 'MARTY ' WAS JUST AMAZING. YOU ARE THE VERY BEST THAT DAYTIME HAS TO OFFER. I WAS REALLY SAD WHEN 'OLTL' WENT OFF THE AIR, I MISS THE SHOW & THE ENTIRE CAST. BUT I HAVE TO SAY, THE CHARACTER OF 'MARTY' WAS THE BEST,& YOU AS AN ACTRESS WAS WONDERFUL. YOU ARE TRULY TALENTED & I HOPE TO SEE YOUR WORK VERY SOON. ALL MY BEST ~ RENEE
05/13/14





Location

St. Louis, Mo.



Comments:


I am so happy to see you Susan !! I hope to catch your appearances in the near future. I have been a fan since OLTL. Love you and Thorston on pretty much anything. God bless you and your family. See you soon ! Amazing !!!
04/23/14





Location

Rhode Island, USA



Comments:


Hello Susan. . . Are you planning to return to daytime now that Thorsten is on B & B?? Always enjoyed your acting on OLTL. Please say you will be returning to our soaps?!?! All the best to you and your lovely family!!! Annie

02/21/14





Website URL

http://www.adesivi-personalizzati.it



Comments:


Hi all...see you!!
12/13/13





Location

California



Comments:


The rape storyline was the best!
12/05/13





Location

Toronto



Comments:


Hi Susan!
You look as good as you did all those years ago at IPS, back when I had a massive crush on you!
Love to hear from you.
Dane xo
11/16/13





Location

Austin TX



Comments:




You see your Gypsy...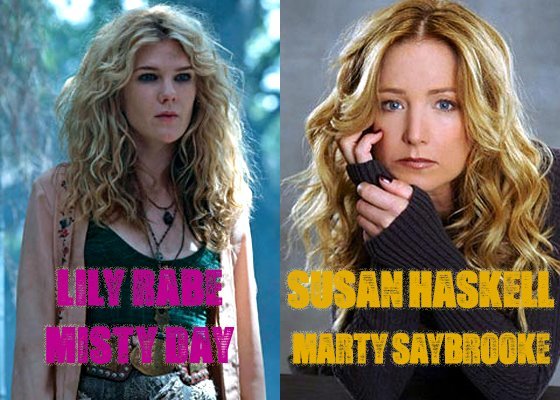 Seriously, your people need to get a meeting with Ryan Murphy's people, posthaste. The first episode of AHS season 3, I thought I was hallucinating or something.

Prime time is calling you...
09/07/13





Location

brooklyn,ny11209-6940



Comments:


I truly enjoy you on One Life to Live. I hope that you will appear on the website series version. Good luck on your newest program.
09/07/13





Location

Sweden



Comments:


I have to admit I'm not a big fan of daytime soap operas at all. However I'd like to share an experience I had back in 1993 when a was randomly switching between channels and came across OLTL and the build up to the disastrous gang rape of the character Marty Saybrooke. For quite some time I followed the events unfolding and I must say the storyline was compelling, it resonated with my personal experience of how bad things can go when tragedies take place, especially how when bad things happen there are always a chain of events preceding, each one of them fully avoidable in hindsight.

Just recently I revisited some of the clips from OLTL 1992-1994 via youtube, and I must say your performance as an actress is what carried the storylines your character was involved in. I don't think I have ever seen anyone bring that much to the overall experience.
07/29/13





Location

Brooklyn new York



Comments:


Was watching old episodes of sliders and saw your name come up on one and thought it was a coincidence that you have the same last name as me . Was curious if we might be related . BTW my girlfriend watches your husband on all my children and loves him on the show .
06/20/13





Location

Toronto



Comments:


Hi Susan, its Ema from West End Hearing. Looked up your website and saw your picture and I can't belive I spoke with Marty from One Life to Live. OMG loved your story line on One life to live. I hope to see you in one of the other soaps I watch.
Ema
06/09/13





Location

Canada



Comments:


Hope you have a great Birthday!!!! Hoping to see you back on screen soon.
05/15/13





Location

United Kingdom



Comments:


Not seen much of your work, but came across you in JAG. Great acting and played a fun and caring character.
02/21/13





Comments:


Knet Was here..
Greetings from Argentina.. bye


02/21/13





Comments:


Knet Was here..
Greetings from Argentina.. bye


02/20/13





Comments:


Knet Was here..
Greetings from Argentina .. bye


02/15/13





Location

Metro Vancouver



Comments:


I'm really glad I stumbled on your websight and youtube videos. I started watching when your character came down the stairs after the rape. I stopped watching when you left. I hope you have fun with your two girls. I hope to see you act again too though.
01/28/13





Location

TX



Comments:


Love your work! Hope one day Marty Saybrooke heads back to Llanview now that Prospect Park is reviving the show!
-your biggest fan,
frank, tx
01/26/13





Location

FL



Comments:


Dear Susan,

I hope you don't mind my stopping by to say hi and send my love. It helps for me to keep busy these days. It has been a while; too long for me at least =) And although you likely won't see or even read this message, I had to put pen back to paper (in a manner of speaking). Mostly to express that you, TK, and your family are never too far away from my thoughts and well wishes.

I'm hoping you too, still remember me, even after all these years. It's been quite a year for me, one of both deep joy and even deeper sorrow, but I wanted to remind you (and possibly myself as well) that your and TK's selfless gift of friendship, kindness, and support over the years (perhaps without your even knowing it) has helped me to "keep the faith".

Your endless, stellar body of work (even at times, without question, under less than stellar circumstances) for me, and I am quite certain so many others-- is one that is such which can never be replicated or duplicated. In fact, they still serve as my "master classes" when I review the scenes from the moment Margaret "Marty" Saybrooke Thornhart stepped onto the OLTL canvas, captured the viewers' attention and ultimately, their hearts. Not surprisingly, your scenes with Thorsten are still just as powerful as they were all those years ago.

From my years since as an aspiring actress, (a young undergraduate student with a passion for theater who was taking classes to learn, explore, and improve the craft she loved so much), to those trajectory moments for me shared together in LA, you both have granted me so many lifelong lessons that go far beyond the gift of acting which continue to impact me to this day.

All of this is meant to tell you once again, thank you. For who you are. Not just as the tremendous actor, but the equally extraordinary woman whom I continue to have a profound sense of admiration and respect for.

I hope you, TK, and the girls are doing well and I look forward to the next time our paths may cross and perhaps getting the opportunity one day soon catch up and to say simply "thank you" once more.

With Sincerest Gratitude,
Dr. KAM
01/23/13





Location

New York



Comments:


Now that One Life to Live is coming back online I would like the return of Susan Haskell as Marty Sayebrooke. ABC really gave her a lousy ending last year when the show went off and Marty is a key character and would be a great addition to the cast again.
12/29/12





Comments:


Nice site!!!!



Best Regards,

Marieliryakhauo@gmail.com

Marie.lirya.khauo@gmail.com
12/28/12





Comments:


Cool site like this is hard to come by. Well done!!!



Best Regards,

marieliryakhauo@gmail.com

marie.lirya.khauo@gmail.com
12/16/12





Comments:


Cool site whats up keep it up
11/22/12





Location

Germany



Comments:


Hi Susan, can you put in some new photos from you when you were younger. You are such a beautiful person
10/14/12





Location

Bulgaria



Comments:




Hello Miss Marty Saybrooke...(Yes i know that is ot your real name but i will use this name)

My name is Deedee (I'm scary to say my name)21 years old

First i want to tell you, you come in my life when i was need you...

I searching answer on my questions (i searching help..how to forgot what was happen on

02.07.12 was after 12 am
)And then i find Spring Fling..I watched what they did
on Marty i will be honest back so much memory...but and helped me to forgot
my problems and to want to help of Marty...That's why feel mixed feelings to Todd
One time i say Marty must stay away from Todd one time They must be together
Never mind what he did for Marty he hurt her...
Now for Susan you play so
wonderful, you win my love and part of my heart ♥♥♥ You make Marty so real
For me you are so wonderful actress and i want to see after serial movie with you
Bye Miss Saybrooke ♥♥♥
10/07/12





Location

Hoorn Netherlands



Comments:


Dear Susan in admire your spontious actin Regardsi g in thee Series of Jag land regardsi Stephan de vre
10/03/12





Location

Canada



Comments:


Hello, I check this site regularly with the hopes of seeing something new. I hope that we get to see you again on screen soon.
10/02/12





Location

California



Comments:


I miss OLTL so much and you were a great asset to that soap over the years. I loved getting my soap fix everyday for over 30 years and you and the entire OLTL family is missed. I occasion I 'll turn on Soap Net just to see a familiar face on OLTL and AMC.
Good luck in the future and I hope you are still following a dream.
I love the family photo of you, Thorstron, Marlowe and McKenna.

Best regards
Sherian
09/26/12





Location

kingston ontario canada



Comments:




Dear Ms. Haskell

I have been a huge fan of yours since you were in that episode of my secret identity as Lauren Vail. I love Margaret "Marty" Ann saybrooke; I watched one life to live all the years you were on. I found one scene in particular that you did with Erin Torpey where you defend Jessica Buchannan's school report to her teacher very moving I think you are beautiful

From

James

McNevin
08/22/12





Location

Michigan



Comments:


It was a real pleasure to meet you tonight and I won't say where to protect your privacy. My husband kept asking me not to go up to you but I told him I am really sure it is her...it is different than on TV! In fact your more beautiful. I was wanting to give you your privacy especially with your kids. Maybe it does bother you and i am sorry that is why i wanted to be quick plus i was so excited it did go quick...I didn't get to say all I wanted to and I was wanting to ask for a picture with you but no time. I wanted to hurry while your kids were away from you for my chance to at least say hi. But I wanted to say I am a huge fan of you and your husband and that you have a beautiful family and to have a great vacation.
06/11/12





Location

Los Angeles



Comments:




Hi Ms. Haskell,

My favorite episode of OLTL was the Spring Fling. You are a very beautiful actress!
06/10/12





Location

Canada



Comments:


Happy Birthday. Hope to see you back on screen soon!
04/28/12





Location

mullins sc



Comments:




hi my name is sandy and I loved you on oltl and I hope that they bring it back and of they dont . I hope that you can fined a new job and let us know so we can see it.
04/06/12
Comments:
Since One Life To Live isn't on anymore. What is next?
03/08/12





Website URL

http://www.susanhaskell.com



Comments:


Welcome to the new guestbook! The previous guestbook is closed due to the shutting down of htmlgear. The old posts are archived here.